Maple Ridge Neighbourhood aka "The Ridge"
One of the first European settlers in the district was John McIver, a Scot, who homesteaded the land now known as the Maple Ridge Golf Course. As his property included a fine ridge topped by Maple trees, McIver called his farm "Maple Ridge".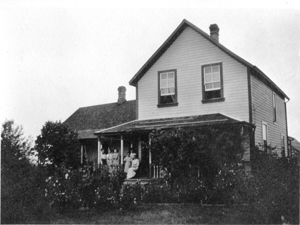 By 1874, several small communities had sprung up, consisting of a few families each, on the north side of the Fraser River in the areas that would become the Ridge, Haney, Hammond, Pitt Meadows, Whonnock, Ruskin, and Albion. One of the problems of small isolated communities is that they tend to stay small and isolated unless some means is found to build roads between them.
It was with this problem in mind that a group of forward-thinking men gathered at McIver's farm to discuss incorporating the whole district between the Pitt River and the Stave to allow taxation for road building. The name for the district was taken from McIver's farm and so we became "Maple Ridge" in 1874.
When the district incorporated in 1874, the total population was about 20 families with the majority located between Hammond and Kanaka Creek. The closest thing to a centre was the area that is now the foot of Laity Street where it meets River Road. This is where the first post office was established in 1876 with the name "Maple Ridge Post Office". All settlers had to travel to this location to get their mail, likely via the Dewdney Trunk, which was the first trail/road to traverse the district, or the Fraser River. Although the official name was "Maple Ridge", most residents shortened it to "The Ridge".