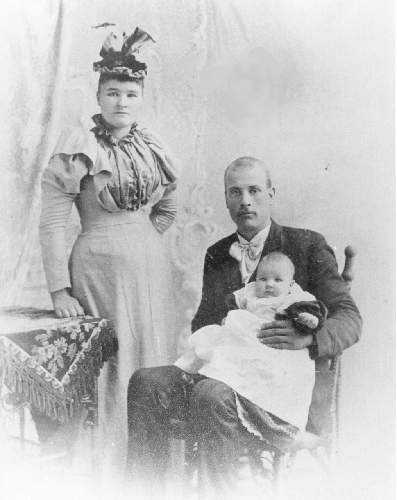 Robert, a native of the Orkney Islands, came to B.C. in the late 1840s as a cooper or barrel maker with the Hudson's Bay Company (H.B.C.) at Fort Langley.    Although he and Samuel Robertson were both coopers at Fort Langley and were both from the Orkneys, they were apparently not related – at least not closely.
When the boundary between the U.S. and B.C. was established between the interior and the Coast for the fur brigades, it was Robert who was the Chief Boatman, bringing the fur laden boats down the Fraser from near Spuzzum to Fort Langley.  For years, Robert also rowed the Rev. Alex Dunn, a pioneer Fraser minister, up and down the Fraser to serve the spiritual needs of the pioneers.  Dunn lived on a piece of Robert's property for years.
In 1852, Robert was 21 years old and employed by the H.B.C., serving for five years in the northern department of the company.  Shortly after his contract ended, he settled close to the village of the Whonnock tribe on the shore of the Fraser with Tselatsetenate, his Sto:lo wife from the Nicomen area.  With the influx of miners in 1858, Robert left H.B.C. and became the first settler in Whonnock.  Robert was a skilful carpenter and earned a living by rowing people and freight up, down and across the river.
Robert and Tselatsetenate had many children.  Surviving in 1881 were three sons and five daughters.  We know that in the 1870s two daughters named Celestine and Mary died.  In the spring of 1884, William Robert Robertson, a 22 year-old-son, was hanged in New Westminster for a murder he witnessed but possibly did not commit.
A few years later, Robert's wife, Tselatsetenate, died of tuberculosis, as did their son Andrew in 1888, and their daughter Andrina in 1896.  We know little of five-year-old Jennie Elizabeth and Pearl, an infant, who both died in 1900.
When son-in-law William Henry Garner was killed in a brawl in the Nicomen area in 1910, he left his wife Barbara Christine destitute.  She cleaned houses to earn a meagre living, taking care of her own and her late sister Andrina's children, as well as her aging father.
Robert Robertson died in 1912 at about 80 years of age.  Ten years later, all of Robertson's descendants had left Whonnock.
For more information from Fred Braches on Robert Robertson, see Whonnock Notes #7.