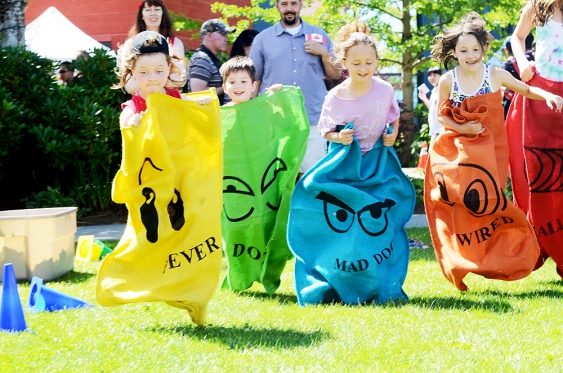 Canada Day 150, July 1st 2017
Retro Play
Maple Ridge Museum & Community Archives will host a display on well-known outdoor summer recreation and, traditional indoor activities this July 1st at Memorial Peace Park from 10am – 3pm.
The warm summer months brought forward an abundance of open-air activities. Locals and visitors from other cities would seek the wild in Maple Ridge, in search of the perfect swimming hole, hiking trail or camping spot for weekend recreation. Families regularly enjoyed a variety of sports, picnics and swimming at Maple Ridge Park, Alouette Lake, and Whonnock Lake. Learn the history of Golden Ears Park, the McKenzie Pool in Haney, and take a look at the trends of 1920s swimsuit fashion.
Also on display will be a variety of touchable artifacts highlighting indoor entertainment in Maple Ridge. Reading, writing and storytelling were important indoor activities before the era of electricity. When the weather was not warm enough to enjoy outdoor activities, children used different styles of storytelling for indoor amusement.
At the Maple Ridge Museum booth, children can participate in Canada Day themed colouring craft from the History of Canada illustrated text, capturing Canada's unique history from this lands earliest history to the creation of a new country, and the country we are today. Decorate a Canadian post card and send it to a friend! Additionally, there will be various heritage games to play.
Photo Credit: MR Times