The first Saturday in April is reserved for the Heritage Tea, unless it is Easter weekend and in that case, the Tea moves to the second Saturday. The Heritage Tea provides a chance for people who have lived in Maple Ridge for many years to see old friends and reminisce about how the community has changed. The event features display panels from the Maple Ridge Museum & Archives including a feature display of this year's Heritage Canada theme plus other new displays from the past year as well as a about the current 50 year reunion grad class.
A selection of the Museum's gift shop items are also available to purchase.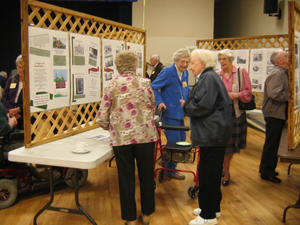 This is one of our most popular events and everyone who attends enjoys the food and the friends. In the past, we have restricted attendance to those who had lived in Maple Ridge for a set period of time to help keep the numbers reasonable. As the years have gone by, we have seen nature take its course and as our pioneers diminish in number, we have decided to open our event to all who care about history and want to meet our remaining, living representatives.
The event runs from 1 to 4pm and guests are treated to tea & coffee, sandwiches and desserts. There is also a large cake which is shared by everyone at the event. If you have been in Maple Ridge for a number of years and having been looking to contact an old friend this is a must attend event. It is held at the Ridge Meadows Seniors Centre (12150-224th Street). Admission is $10 at the door.
Please see our Events Calendar for more information.