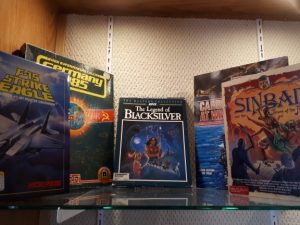 Temporary Gallery
Located in the front room of the Maple Ridge Museum, our temporary gallery rotates exhibits 2-3 times a year. The goal of the space is to highlight parts of our collection that do not necessarily fit into the exhibits currently on display. The space is also used to showcase traveling exhibitions from neighbouring museums.
Currently on display is "20th Century Gamer" an exhibition of computer and video gaming technology from 1950-2000.  Ever since the very first computerized game came out in 1951, our culture has completely embraced this electronic pastime. But have you ever wondered about the first video games, how they developed, where, and why?  On display are our collection of computer and video games from throughout the 20th century, displaying the development of computer and video gaming, beginning with tabletop pinball, through 8-bit computers, and all culminating in the development of bigger, faster, and better video game systems that you may even recognize.  Come check it out and revisit your own childhood computer and video games.
At the Maple Ridge Museum we often focus on our local heritage but within our collection we also have, and continue to collect, those cultural treasures from the recent past.  We collect those things that make our community unique, and objects that speak to the everyday lives of the people of Maple Ridge.  Computer and video games, while not unique to the area, tell a story about a wider cultural movement and worldwide phenomena of which Maple Ridge is a part.  On display are old computers, video game consoles, and games from the maple ridge area spanning 50 years of gaming history.
"20th Century Gamer" will be on display beginning August 25th 2018 and will go through March 2019