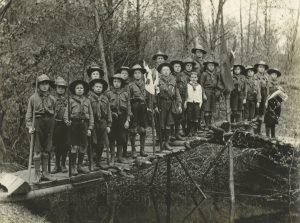 Photographic Resources
Maple Ridge Museum has a scanned collection of over 13,000 images covering every era and topic of Maple Ridge history.  For the purposes of our schools and other interested parties, we have made topical sets of images available on Flickr.  The album set includes our original neighbourhoods, local industry, founding families, sports and military service to name just a few.  In addition to photographs, some sets also include scans of newspaper clippings and other documents that contribute to the topic in question.  Copies of all these materials can be downloaded for personal or classroom use.

Archival & Research Resources
Due to our limited physical space, it is difficult for us to provide researchers with direct access to archives or research materials at the museum.  There is a copy of our research files – a set of some 1200 folders – that is maintained at Maple Ridge Public Library. The set that was at the museum has now been scanned and can be made available in JPG or PDF format.
Resources on Specific Topics:
Teachers wanting particular content should contact the museum so we can determine how best to provide materials that will suit your purpose and your students.