Built in 1888 as a Presbyterian Church on land donated by Thomas Haney, it was outgrown by St. Andrews United Church in 1957 and the congregation moved on. The building was rescued from demolition and became municipal property. It is managed by the Maple Ridge Historical Society as a rental for meetings, parties and small weddings.
St. Andrew's Presbyterian Church was built in 1888 on land donated by Thomas Haney. He was a devout Catholic and has already built a Catholic Church but he was working to establish the town site of Port Haney and he knew that more than one church would be required to draw people – especially women – to the area.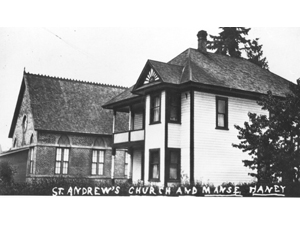 The building was built with bricks made on or near the site.  At that time, Port Haney was still very small, but there were various church members who donated timber, bricks, labour, and money to build the little brick church.
A church bell was cast in San Francisco in 1871, and installed in the square tower of the nearby Maple Ridge Methodist Church, where it called both Methodists and Presbyterians to worship.  After church union in 1926, the Methodist Church stood empty until 1934, and the church bell was silent.  That year the St. Andrew's United congregation in Port Haney decided to move the old bell, and retired Glasgow architect Robert Hamilton designed a belfry.
Local builder Dugald Brown, built the belfry on the brick church, but there was some concern expressed by the elders of the congregation about the wisdom of the whole scheme and their own safety.  So the younger men of the flock took matters into their own hands, rigged some rope and pulleys to a model T Ford engine, and successfully managed to transfer the bell to its new belfry, where once again it rang every Sunday.  It first rang in St. Andrew's on June 10th, 1934, on the anniversary of the church union.  The old bell left the brick church with the congregation in 1957 but the belfry remains.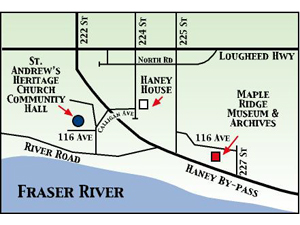 A Sunday School annex was added to the rear of the building in 1927.  In addition to Sunday School, it was also used for youth group gatherings and other social activities.  With contributions from volunteers and a donation from the Ladies Aid, the addition was built and furnished for less than $600. Indoor plumbing was installed in 1935.  The addition was removed in the 1950's but it's roofline can still be seen marking the brick on the back of the church.
The manse was built east of the church in 1905 to house the Rev. William Reid and his seven children.  At the time, the congregation owned both properties but the manse property was sold in 1957 to raise money to buy a new manse and it remains in private hands.
To rent the Heritage church hall and to view images of the interior, please view the rental rate page.