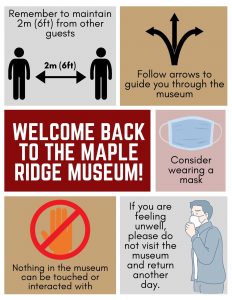 The Maple Ridge Museum is excited welcome back visitors! We have reopened with limited hours, numbers of guests, and with enhanced cleaning and safety procedures. Before visiting the museum please read through our safety procedures below to help minimize potential risks and ensure a safe environment for yourself, other visitors, and staff.
The museum is opening Sunday July 26th and will be open Sunday, Wednesday, and Friday from 1:00pm – 4:00pm.
Train day Sundays with The Dewdney-Alouette Railway Society (DARS) are still cancelled for the foreseeable future. And Haney House Museum will remain closed.
There are a strict set of COVID-19 Policies and Procedures for museum staff for their safety and the safety of visitors. To visitors of the museum we ask the following:
Before you visit the museum
Please do not visit if:
You are not feeling well
Have any symptoms of COVID-19 symptoms include fever, chills, new or worsening cough, shortness of breath, sore throat, and new muscle aches or headache
Have had any contact in the last 14 days with a Covid-19 positive person in the last 14 days.
Are under self isolation orders
What we have done to prepare
All touchable artifacts and displays have been removed, nothing in the museum can be touched or physically interacted with.
All staff are working physically distant from each other
Commonly touched surfaces in the museum are cleaned after each group visit
All staff members will be wearing masks upon greeting visitors and answering questions. Please consider wearing a mask.
When visiting the museum
Only two family group "bubbles" will be admitted inside the museum at one time, group size is limited at 6 per group. Long line ups are not expected but if the museum has two groups inside we please ask people to wait patiently outside in a socially distant line up.
If the museum is full a staff member will greet you at the door, at an appropriate distance, and go through our safety procedures. If there is no lineup, enter through the front door marked "entrance" and a staff member in a mask will greet you and review our safety procedures.
One individual from each group will be asked to give their name and contact information for contact tracing purposes only. This information will be safely disposed of after 14 days.
Tours of the museum will be self-guided. While touring the museum please follow the traffic flow signs and arrows and maintain social distance from staff and any other visitors. One family group "bubble" at a time will be admitted into the basement to view the Dewdney-Alouette Railway Society (DARS) train diorama. Please exit through the side door marked exit.
Admission to the museum is free for the foreseeable future. Donations that support the museum can be made via touchless electronic payment methods, please ask the staff about making a donation.
Appointments are not required but are suggested, appointments can be made by contacting us a mrmuseum@gmail.com.