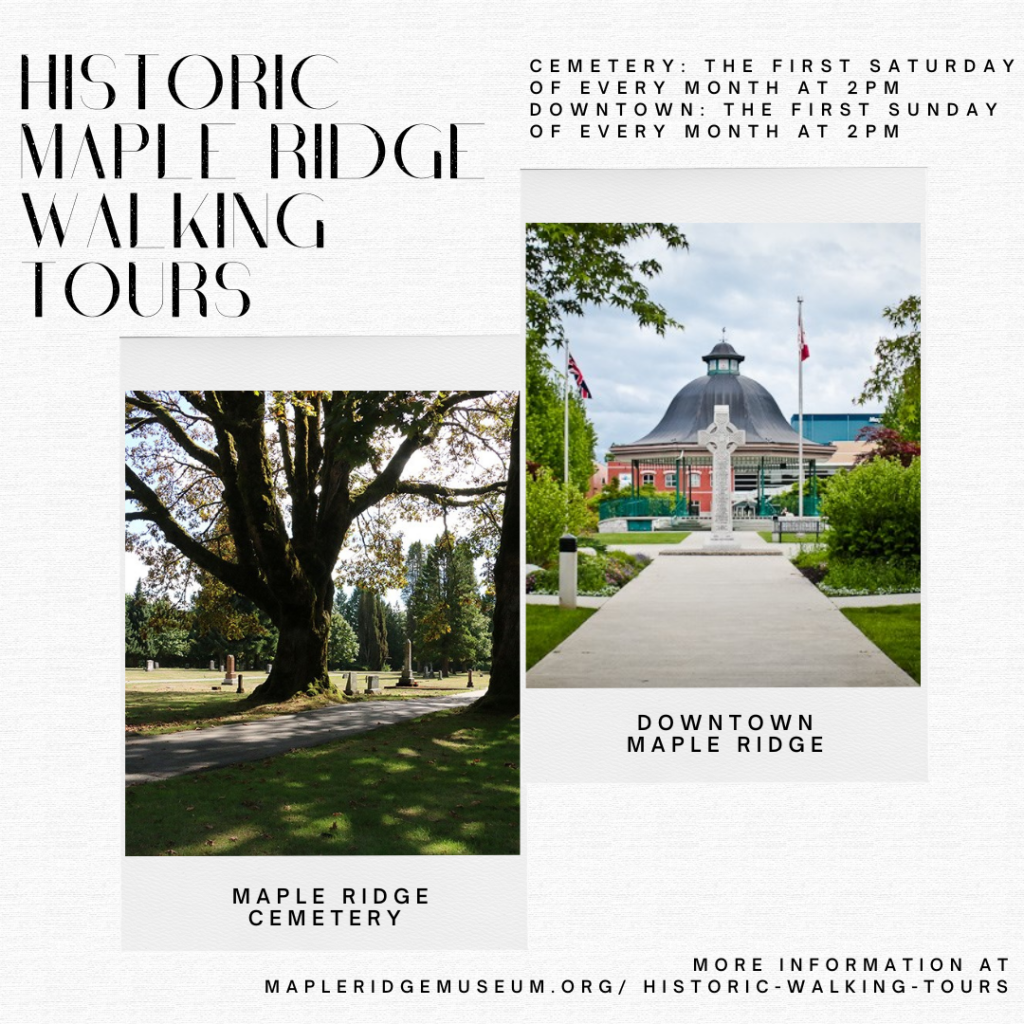 Join Erica Williams, local history expert and president of the Maple Ridge Historical Society, on a historic walking tours of Maple Ridge Cemetery and downtown Maple Ridge!
These tours are offered as a free learning opportunity for locals about their history. Everyone is welcome and cash donations for the Maple Ridge Historical Society will be accepted.
CEMETERY:
Cemetery tours are the first Saturday of every month. The next tour will be September 3 at 2pm. Register here.
Maple Ridge has one of the oldest continuously operated cemeteries in the Lower Mainland. We will explore a variety of pioneering families with the oldest burials being at the southern end. The tour will also look at design and symbolism as well as the different types of materials used in the grave markers and how they hold up over time.
The entrance to this section is between the two large maples which is where the tour starts. Guests will meet at the gates at the end of 214 street (just off Dewdney Trunk Road) and join Erica for an approximately 75 minute walking tour.
DOWNTOWN:
Historic Downtown Walking tours are the first Sunday of every month. The next tour is September 4 at 2pm. Register here.
Maple Ridge has a truly fascinating history, filled with stories from diverse cultural groups who supported some very successful local business and industries. Join us on a walking tour of the downtown area and learn more about how our city came to be!
Meet at the large horse clock outside of City Hall at least five minutes before 2PM.
PLEASE NOTE:
– Families are welcome, but this tour is more suited for teens and adults, as it includes an in depth discussion of history It might not be of interest to young children.
– Please dress for the weather; it will go ahead in light rain. However, in case of heavy rain, it will be cancelled and guests will be notified by email 2 hours before the tour is scheduled to begin.
– Questions? Please email mrmeventplanner@gmail.com with the subject "Downtown Tour" or phone the museum at 604-463-5311