9:00 am September 25th – 12:00 am October 25th, 2020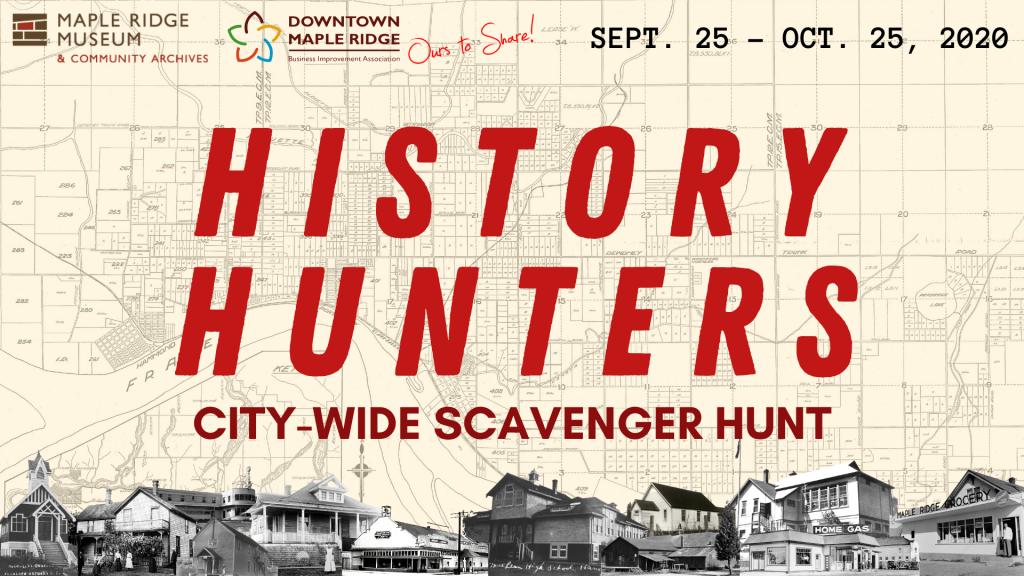 The scavenger hunt is officially open!
Ready to see Maple Ridge in a new light? This year we're celebrating Culture Days for a whole month with a city wide scavenger hunt all about our local history! Follow the clues and solve the questions to discover our city's history and see for yourself what Maple Ridge looked like in the past with the help of our online historical photos. Enjoy a day out on the town and support our local businesses who we've teamed up with to create this event!
Here's how to participate:
The Clues:
The clues for the scavenger hunt is in fact a map of Maple Ridge which marks where each location is. While it might sound easy, the map we've used is a hand-drawn map from the 1930s so street names will be different and familiar roads such as Lougheed Highway won't be on the map. You'll have to use your Maple Ridge knowledge and deduce the locations from landmarks on the map. (The questions themselves may also give clues to the location)
finding locations:
.
Once you've figured out approximately where each location is, it's time to head out on the town. There will be a History Hunters poster at every location which will contain the answer to each corresponding trivia question. Scan the QR code on the poster to see historical photos of the location (make sure you have a QR scanner on your phone before heading out!)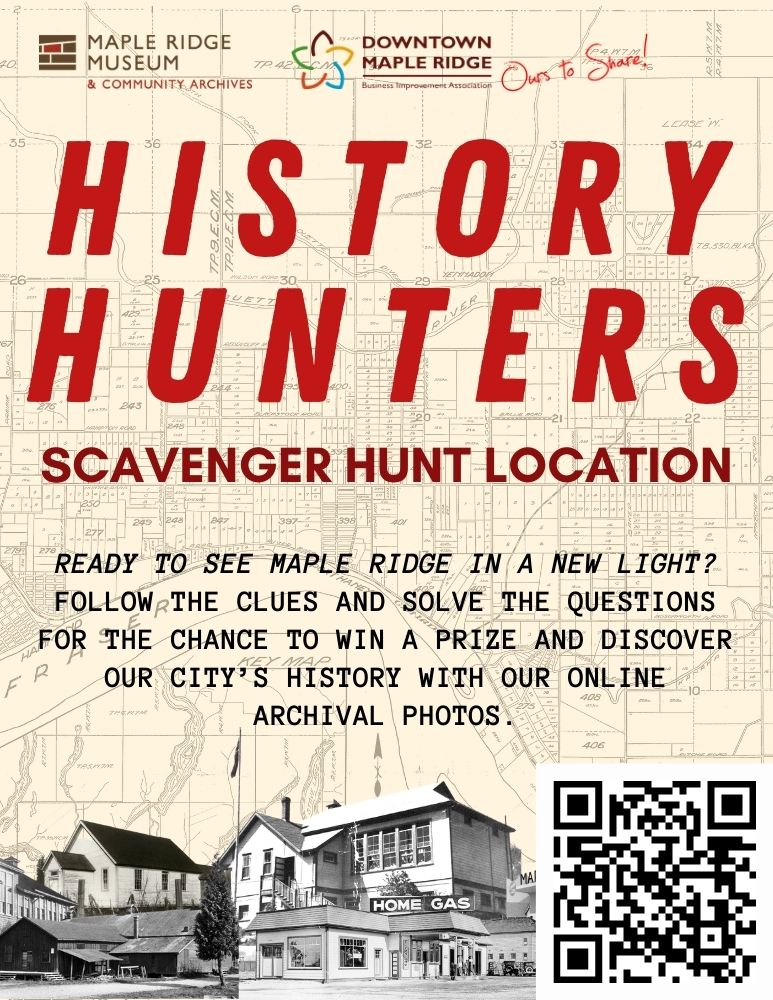 The raffle prizes:
The raffle prizes each have a value of $100+ and will include a $25 gift card to use at any Downtown Maple Ridge business and goods from local stores. To enter for a chance to win one of these three prizes, you have two options:
Use the hashtag #huntingforhistory and tag us @mapleridgemuseum with a photo of you at one of the scavenger hunt locations. Each post will count as one entry for a prize. We will like your post to confirm entry into the raffle prize. (Note: if submitting on Facebook, make sure your post's privacy settings are set to public so we can see it.)
Send in your trivia answers to mrmeventplanner@gmail.com. You only need to have 8 correct answers for a chance to win.
(Pro tip: submit both ways to double your chances of winning a prize!)
Be safe!
Remember to participate in the scavenger hunt responsibly and maintain proper social distancing protocols such as keeping 6ft apart, going out in groups of 6 or less and staying home if you feel sick. While we encourage you to engage and support our local partners, remember to be respectful of their COVID protocols.