With his tremendous skill and dedication to the game of baseball, Larry Walker Jr. has put Maple Ridge on the international baseball map. Skill and dedication do not fall from the sky – they are born of long years of focus and practice. In the case of the Walker family, one need only look at their history to see how this extraordinary young man came to be.
In the early 1940s, a young Ken Walker, Larry Jr.'s grandfather, arrived in Maple Ridge and took a job at Muskett's Meat Market. The Muskett family were involved with baseball, with brothers Bob and Frank playing for the Haney team. After a few years, Ken Walker moved to Hammond where he started working for Hammond Cedar, a company with a long history in baseball. As Larry Sr., Ken's son, recalls, there wasn't a lot of entertainment available in Hammond in those days. Everyone in the community would turn up to watch a baseball game, particularly involving the arch-rival Haney team.
Some of Larry Walker Sr.'s strongest memories of childhood are of sitting in the stands, watching his father play baseball at the old ballpark at the corner of Lorne and 207th Street. Even his mother, Annie Walker, was a ball player on a softball team. According to husband Ken, her nickname was "slugger".
Larry grew up immersed in the culture of baseball in Hammond, and became a very talented player. He was only 13 years old when he joined the Hammond Junior team as a left-handed pitcher in 1951, along with teammates Elmer Tippe and Norman Grohman. A note in the local Gazette of that year read, "Keep your eye on young Larry Walker. The Hammond Junior is destined for great things if he doesn't burn out as a youngster."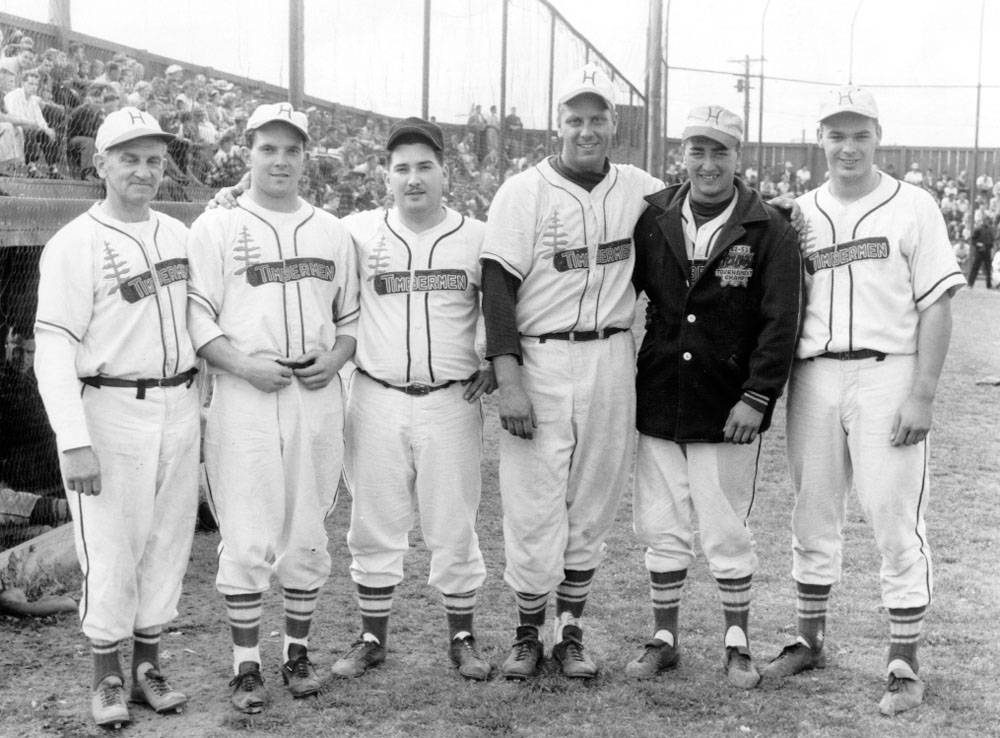 In 1952 Larry was bumped up to the Hammond Senior team, despite being only 14 years old. The seniors were generally closer to 20 when they began but an exception was made in Larry's case as he was large and mature for his age. Ball scouts from American teams were already sniffing around even though Larry still had three years of high school left to finish. Larry's father Ken had played on the same team along with other Hammond baseball greats Roy Lehman and the Bowyer brothers, Ted and Bob, but had retired by the time Larry joined.
In 1954, Larry switched to the rival Haney Team to play for Manager Pete Telosky who had built his own ball park in Haney in 1950. After completing high school, Larry went to play ball for Powell River and, while there, was scouted by Cedric Tallis of the Vancouver Mounties. He signed a professional contract with the Mounties and was sent to play with an affiliated team, the Yakima Bears. After one year with the Bears, Larry decided that the life of a professional ball player was not for him and he returned to Hammond, where he played for the newly joined Haney and Hammond teams who went first by the name "Luckies" and then became the "Timbermen". In 1958, Larry was named Most Valuable Player in the Dewdney League.
Larry met his wife, local Mary Plumpton, at a Hammond boxing match, which was the other official sport of Hammond. Together they had four sons, all with names that rhyme with their parents'; Barry, Carey, Gary, and Larry Jr. Mary made sure that all the boys were in the stands when their Dad played. She supported her husband and a series of teams by selling tickets, fund raising, and making more hot dogs than any human should be called upon to handle.
In the mid 1970s, Larry Jr. became the bat boy for his Dad's team, the Alouette's. Larry Jr. started his 17-year career with the Montreal Expos in 1989, after they signed the undrafted right-fielder as an amateur free agent. He was signed with the Colorado Rockies in 1995 and it was there where he would make a name for himself in the majors.
Larry Jr. was traded to the St. Louis Cardinals in 2004, making his only World Series appearance that year as the Cardinals were swept by the Boston Red Sox.
Larry Jr. retired from the MLB in 2005. His career batting average of .313, with 383 home runs and 1,311 RBIs make him the all-time leading offensive Canadian player in Major League history. During his Major League career, Larry Jr. won the National League batting title three times, was a five time all-star, and a seven time Gold Glove winner.
Larry Jr. was inducted into the Canadian Sports Hall of Fame on October 25th, 2007 in Toronto, making him the first Maple Ridge product to ever earn the honour.
Each generation of Walkers has come to the game of baseball by watching their father work hard to excel at the game. Larry Sr. noted that the proudest moment of his life came when all four of his sons were involved with the Maple Ridge Lanes Fastball Team, a team he had played for and coached. Larry Jr. is a product of a supportive community and a competitive family for whom baseball is a multi-generational affair.