Walto Johannes Rauma was born in 1907 in Finland, one of eight in a family of subsistence farmers. His ancestors had been wood workers and builders of the intricate wooden churches that grace the region. Some were gifted musicians who performed traditional folk songs and dances. In those days there was no medical system, so the folk wisdom was "If tar, whiskey and sauna didn't cure you, nothing else would".
After four years of schooling, Walter, as he became known in this country, went to work on the farm. He was 19 years of age in 1926 when he decided to emigrate to Canada with a cousin. They sailed steerage from Liverpool to Quebec, then took to train to Vancouver. He was soon in Webster's Corners, with the Finnish community, but found work in a variety of places, from helping in a cafe in Vancouver, to farm labour in Albion, working at Hammond Mill up until he broke his arm, and logging in Webster's Corners and at Pitt Lake.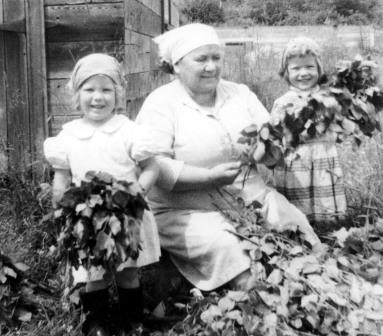 Meanwhile, Ada Piikki was growing up in a remote area of Finland, part of a family of 10 who had been brought into the world in the family sauna. The children were made to work very hard by their stern father, and none of them received any formal education, much to their later regret. Ada was trained in sewing, spinning, weaving and cookery.
In 1930, helped by one of her brothers, Ada made up her mind to emigrate to Canada, not revealing this to her parents until the day before her departure. She arrived in Toronto, where there was a large Finnish community, and began work as a maid.
Her skills with a needle were soon noticed and appreciated by her employers. Then quite by chance in 1932, she met and married her fellow immigrant Walter Rauma, who had moved to Toronto to find work. They struggled in the depression years, sometimes having to resort to monthly "relief" payments of $13. Daughter Eila arrived on the scene during these difficult years in Ontario.
The family moved back to Webster's Corners in 1937, where Walter worked at a variety of lumber mills and logging camps. They spent their last $10 as a down payment on a five-acre plot of land, where they eventually built a home, In 1942, Walter began gillnet fishing out of Albion. (Sheila Nickols, April 7, 1999; Maple Ridge News)
Eila Rauma grew up with a foot firmly planted in both worlds. She studied her Finnish roots and could read and write the Finnish language so she performed valuable services for the community archives by identifying people in photographs, translating documents, and helping us get all the names spelled correctly.