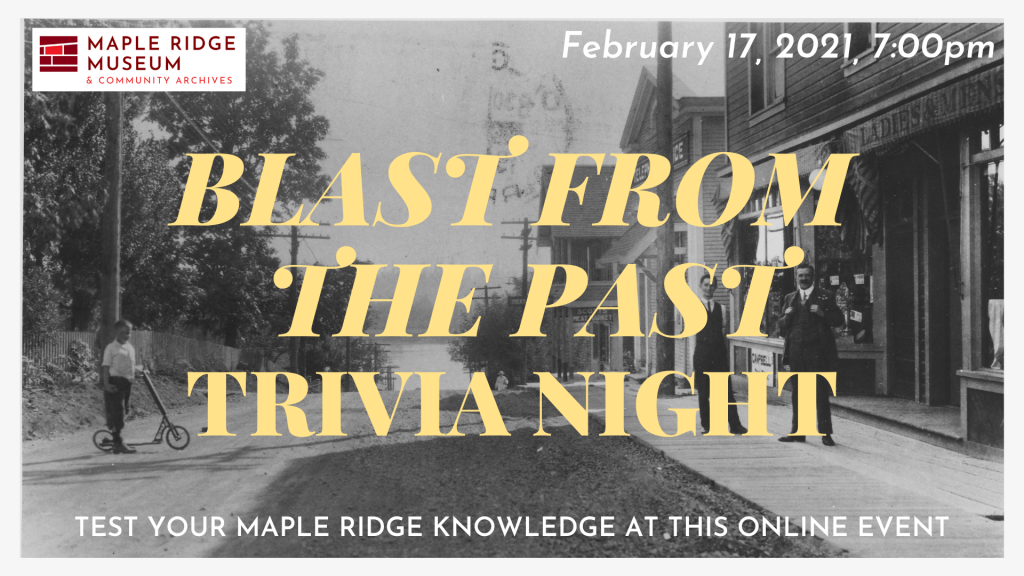 February 17, 2021 – 7:00 PM
Its time to put your knowledge of Maple Ridge history to the test! Join the museum for a night of virtual trivia to celebrate Heritage Week.
On Wednesday February 17th at 7:00pm, compete for prize packs and most importantly to be crowned the Maple Ridge history champion! The first second and third place winners will earn a prize packs from local businesses and there will be one random prize draw! Sign up here on Eventbrite, and you will be sent a Zoom link to join. Suggested donation of $10 but all donations are welcome. All donations go towards the Maple Ridge Historical Society and our work preserving local history.
You will need two devices to play, one to join the Zoom meeting and see the game screen, and another to answer the questions and use as a gamepad. Each household can use the same screen to watch and read questions, but each individual participant will need their own "gamepad" device (phone or tablet). Instructions will be given at the beginning of the game. You can compete as a household or against one another for bragging rights!