The Family History Group as a whole and several of its members have been recognized by the Maple Ridge Community Heritage Commission (CHC) and beyond.
CHC Sheila Nickols Award: Formerly the Heritage Achievement award. It was renamed the Sheila Nickols award in 2003 and recognizes an individual who has helped maintain Maple Ridge heritage through efforts in sharing historical facts and memories with others, or for work that preserves original historic documents or transfers information from such documents.
CHC History Hero Award: Recognizes the achievements of an individual or group that have contributed to the recognition of Maple Ridge in its historical context.
Group Recognition
2021: British Columbia Historical Federation: On the River: The Fishing Industry of Maple Ridge – Honourable Mention – Storytelling Award
2021: CHC: The Maple Ridge History Group – History Hero Award
2019: CHC: Hammond Brothers-Shaping the Community – Heritage Commendation
2018: CHC: Community Builders: The Haney Family – Heritage Commendation
2017: CHC: Evolution of a Citizen: Edmund Pope – Heritage Commendation
2016: CHC: Edge Family Legacy Project – Heritage Commendation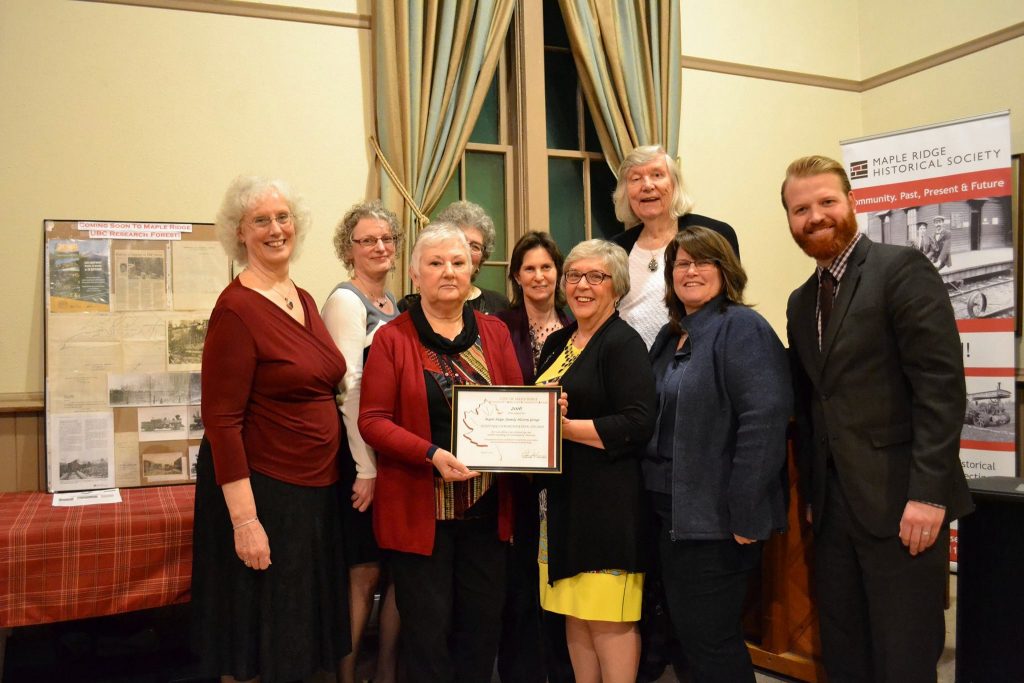 Award presentation for 2021 CHC Heritage Award Winners
Award presentation for 2020 CHC Heritage Award Winners including Erica Williams
Individual Recognition
2021: Andrea Lister – Sheila Nickols Heritage Achievement Award for Community History and Heritage Teaching (Maple Ridge CHC)
2020: Erica Williams – Sheila Nickols Heritage Achievement Award for Community History and Heritage Teaching (Maple Ridge CHC)
2019: Gina Leigh – History and Heritage Research and Publication (Maple Ridge CHC) for her Unmarked Graves Program Research
2019: Chris Hay – British Columbia Historical Federation Certificate of Recognition for efforts in recognition of the Stanley Park Rock Garden, locally and nationally
2019: Brenda L Smith and Erica Williams (members of team) recognized by Heritage BC for Haney House restoration
2017: Sandra Ayres – Commended for excellence in enhancing our understanding of community history (Maple Ridge CHC) for transcribing the Maple Ridge Council Minutes
2016: Brenda L. Smith – Surrey Family History Centre
2015: Chris Hay – Vancouver Heritage Award for efforts in recognition of the Stanley Park Rock Garden, locally and nationally
2015: Andrea Lister – History and Heritage Research and Publication – with Sheila Nickols for Looking Back: Volume I (Maple Ridge CHC)
2012: Andrea Lister – Chilliwack Heritage Award for Commitment to Caring: Chilliwack Hospital Auxiliary's 100 Years
2007: Annette Fulford – Sheila Nickols Heritage Achievement: History and Heritage Research and Publication (Maple Ridge CHC)
2006: Brenda L. Smith – Sheila Nickols Heritage Achievement Award for Community History and Heritage Teaching (Maple Ridge CHC)