MCLEAN HIGH SCHOOL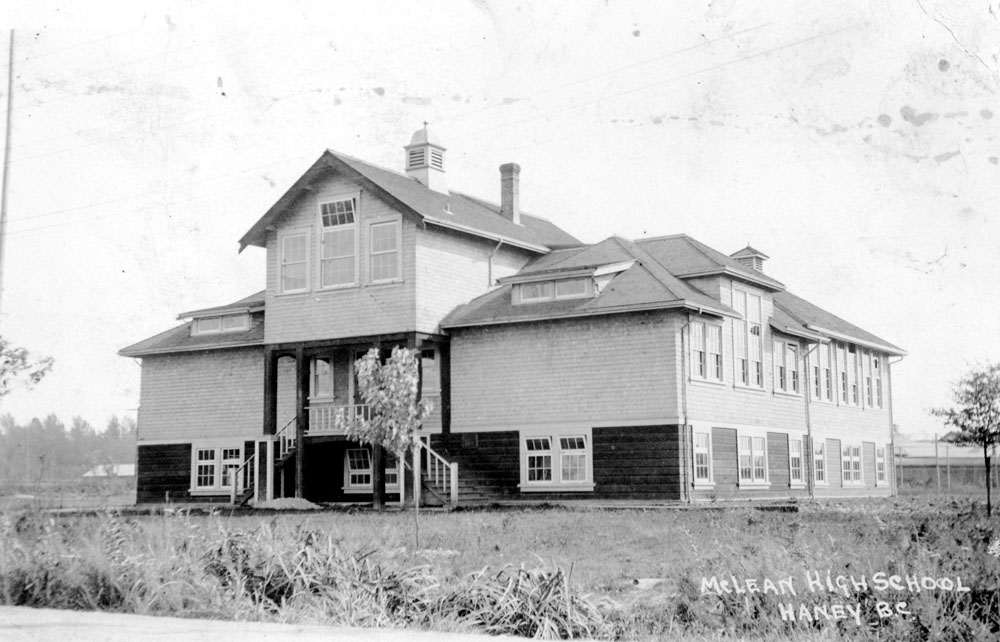 Built in 1922, McLean High School consisted of two classrooms, a basement, indoor plumbing, a teacher's room and a chemistry lab. It was named after Dr. J. D. McLean who was Minister for Education at the time. He attended the grand opening on September 7, 1922.
Enlarged in 1926, it served Maple Ridge as its only high school until it was completely outgrown in the later 1930's. At one point, the overcrowded school was leasing space from the funeral parlor across the street, the Aggie Hall, and the 1909 elementary school.
After several years of failed referendums at annual civic election times, a new high school was built immediately south of the McLean building, about where our current library is located. Even after the new high school was built, the old McLean school continued to be used for the almost immediate overflow from over-crowding. The fire that consumed the new high school in 1953 left the old McLean building untouched.
Once the old building's school days were over – after Maple Ridge Secondary opened in 1954 – the McLean building became the Public Safety building, hosting court and police functions. It was finally demolished in the summer of 1990.
MAPLE RIDGE HIGH SCHOOL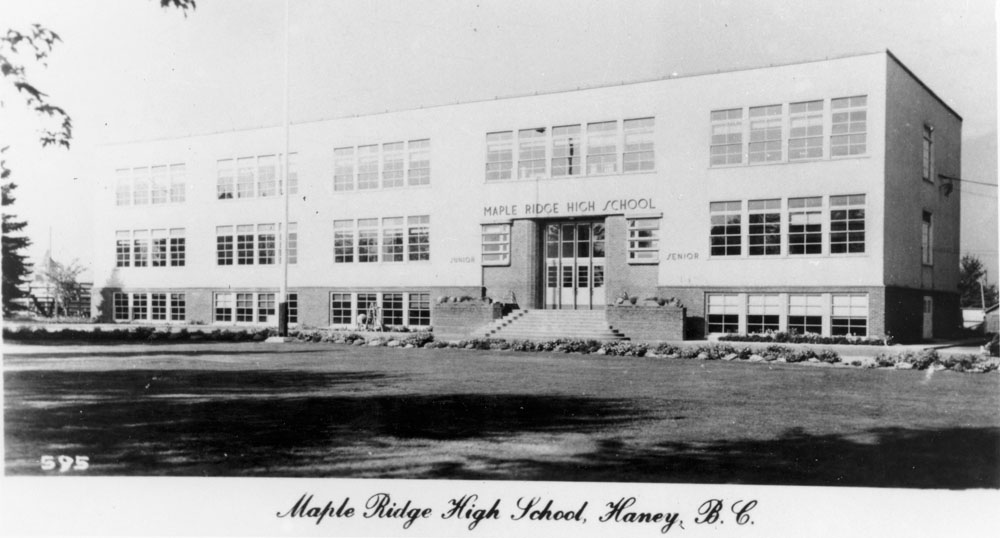 Maple Ridge High School, built in 1941 after much controversy, was a modern school with a gymnasium and was divided into Junior and Senior divisions. It offered classes in Home Economics, Agriculture, Industrial Arts and Commerce in addition to the usual subjects. The gymnasium had been a major stumbling block for the farmers whose tax dollars had to support the school. They simply could not fathom why such expensive indoor space was needed for children to play in.
MRHS was built for 450 students but was soon overwhelmed as it was still the only high school in the district with 8 local elementary schools plus those of Pitt Meadows feeding into it. They soon spilled back into the old MacLean building as an annex despite it being in very poor condition. However, the situation reversed when all the Japanese students were removed from the district in the spring of 1942.
Post-war, the population boomed again and soon plans were afoot for a new high school at the current location of MRSS.  The plans were barely dry when MRHS burned to the ground in June of 1953, leaving the district with no functioning high school at all.  The class of 1953-54 spent its graduating year going to classes in shifts in makeshift classrooms all over the district. No cause for the fire was discovered.