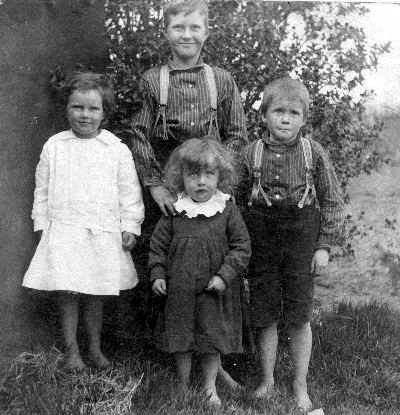 Alexander Baillie was the first of his family to come to Canada. He immigrated in 1837 with his wife from Iverness, Scotland, and their son John, who was about nine years old.
As an adult, John settled on Manitou Island in Ontario with his first wife. The island was originally a Native Reserve. The soil on the island proved to be of poor quality, so after his wife died, John packed up and moved west to Maple Ridge. He remarried on November 27, 1896 to a woman named Mary Fairlie from Whonnock. The couple had four children: Eunice Elizabeth, Allan Dunn, John Gordon, and George Fairlie.
John's farm was located on Laity Street, and after his death, the house and land were sold as the location for the new Maple Ridge Hospital. The agreement was made with the condition that Eunice and George, neither of whom had ever married, would be allowed to live in the only home they had known until their deaths.
Eunice Elizabeth Baillie (known as Lizzie to her many friends) was born on November 4, 1902. When she completed her local schooling, she registered at the Normal School in Victoria to study to be a teacher.
When Lizzie's father became ill, she came back home to Maple Ridge. After his death, she continued her career as a teacher at Alexander Robinson Elementary School. She stayed at Alexander Robinson until she retired in 1963. Eunice was also quite involved with the United Church in Hammond. Here, she devoted many hours and much love to the small church which her father had a hand in building. She played the organ and attended services.
Eunice was a kind and generous soul who had a gate installed in her back fence so that she could visit and play piano for the residents of Creekside Manor – the extended care wing of the hospital. She continued this activity until her own final illness and death in November of 1994 at the age of 92.
As her brother George had passed away a few years earlier, the conditions placed on the land were fulfilled. The old house has since been torn down and the property on which it stood for so many years became the site of Baillie House, an extended care home and hospice.