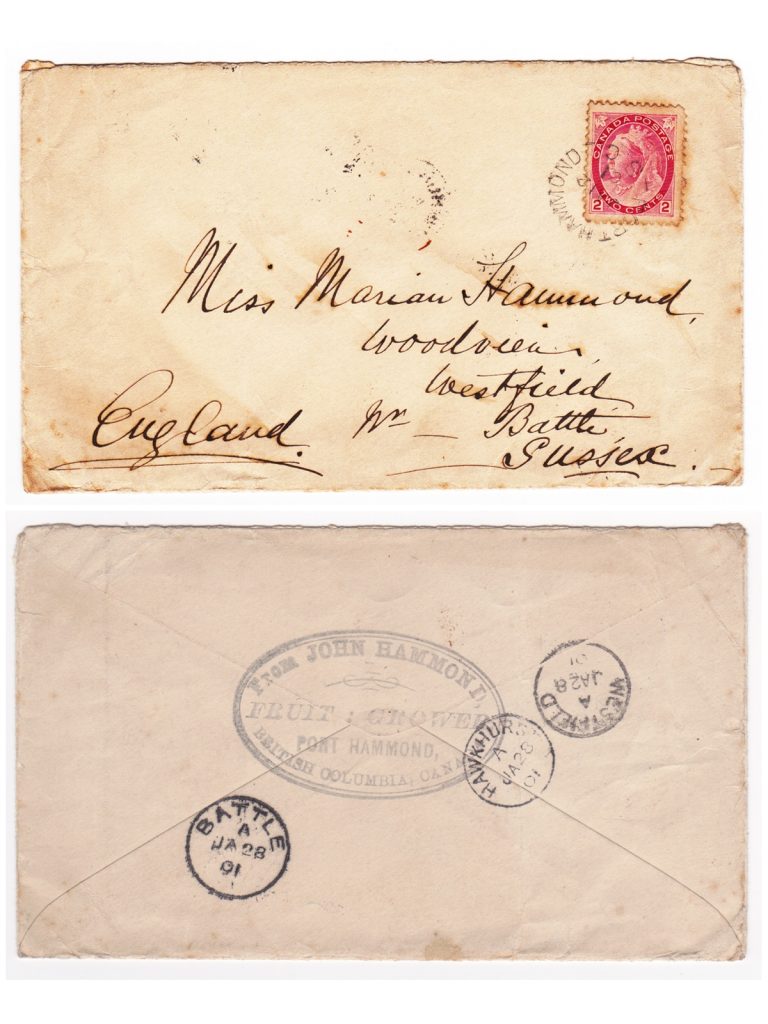 This small envelope set off a chain of events that united family history enthusiasts from England and Maple Ridge on the topic of the namesakes of one of our most prominent neighbourhoods – Port Hammond.
In England, Ian Barker was examining the remnants left by his great aunt Marian. Among them was this small envelope – no letter inside – that showed Marion's name and address and on the back, an address stamp showed the sender to be John Hammond, Fruit Grower, of Port Hammond, British Columbia.
Ian set off on a quest to discover whether this "Port Hammond" still existed and if we could provide any information on the fate of his great uncle John – Marian's brother.
The family in England was aware that John and his younger brother William had gone to Canada and lived out their lives there but knew little of their story. Here in Maple Ridge, we knew the story of the brothers Hammond as it played out here but we knew little of their origins or why they had decided to move so far.
Ian established contact with us at the museum and the story unfolded from there for both parties. Ian and his wife, Val, came for a visit in 2006 and we showed them all around Hammond including the original house their ancenstor had lived in and his grave in the Maple Ridge cemetery.
Both sides of the envelope also provide answers for other Hammond puzzles. Two of the streets of Hammond are named "Battle" and "Westfield" and clearly, those were also postal districts where the Hammond brothers grew up.