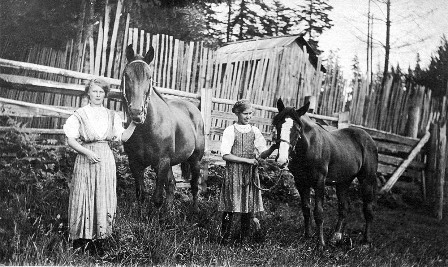 The man we know as John Jackson of the Jackson Farm in Albion, first immigrated to the United States from Finland. At some point soon after his arrival, he changed his name from his Finnish name to "Jackson". We don't know why he selected "Jackson", but we do know, courtesy of Harold Hill of Hill house, that his original surname was Hyvari.
From the United States, John went to Vancouver Island, where he worked as a miner. One summer when there was a little free time, he ventured over with two of his friends to Maple Ridge to inspect the land.
In 1901 he bought property in Albion from Bill Wales, who had planted a lovely orchard, which was in season when John moved in. The farm was 80 acres, plus 10 acres of gravel pit to the east. Access to the land, which was located along present day 102nd Ave, was by a trail leading south to River Road, and was capable of taking a horse and wagon.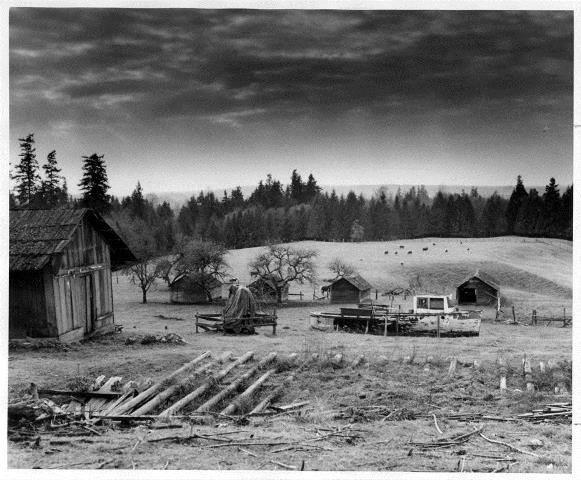 For the family's main income, John worked hauling gravel for municipal road building projects. John cleared his land with a team of heavy horses. At one time they had 70 milk cows as well as the extensive orchard.
In 1915 John and wife Ida built a larger home on 102nd Ave. The Jackson family included seven children: Milka ( married a Mr. Hall),son Matha, Edith (married Jack Hoy), Willa, Toivo, Vaino "Vin", and Gertrude Ella (married Arthur Nelson).
Son Vaino, known as "Vin", took over the family farm and lived there until his death in 1996. He was a logger by trade, and later in life he ran a beef cattle operation, along with a couple of ponies.
Daughter Gertrude taught school for many years in Kamloops and married Arthur Nelson in 1931.
The old farm house was used in filming an adaptation of the Stephen King novel, "Needful Things". Part of the farm is now a community park but all of the original buildings are gone.