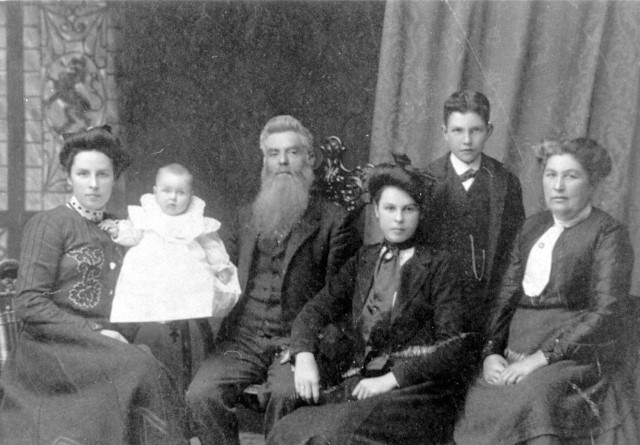 James Murray Webster was born in Aberdeen, Scotland, in 1833. He went to school in his home town, but was sent for further education to a more senior school in Glasgow. He was very unhappy there and so he ran away and joined a ship's company and set out to sea.
James eventually made his way to Orangeville, Ontario, where he met his wife-to-be, Annie Worling. They married and started their large family there before coming to B.C. to homestead at what would become "Webster's Corners". We don't know what prompted this move, but we do know that he took up a 160 acre homestead east of Marten's Road (256th) and south of the Dewdney Trunk Road all the way to the present 116th Ave.
James came alone to establish his homestead in 1882 and was joined by his wife and eight children two years later. The family and their belongings were brought from Haney to Webster's Corners by 'stone boat'- a large, heavy wooden sleigh dragged behind oxen. These stone boats could be dragged over holes and across soft spots that would have defeated a horse and wagon. As James and Annie had three more children after arriving at the homestead, this was home to 13 people.
In 1891, James obtained a post office for his house. He carried the mail on his back over the muddy trail to and from Haney. He was also very involved with the first school in Webster's Corners, being elected chairman of the school board in 1896 at a meeting in the Post Office, which was also his home.
The final "s" on Webster's Corners is significant. In those days, when you were lucky to find even one road going in your direction, a cross-street was a significant find. A person who lived on a jog in the road or on a "dog leg" where the road followed section lines around a 90 degree corner, might find their name applied to a "Corner". But in order to qualify for "Corners", you had to have four of them; a full intersection and nothing less. This was a mark of distinction that was not lost on James Webster, who was reportedly fond of standing out in the middle of "his" intersection to dispense the mail.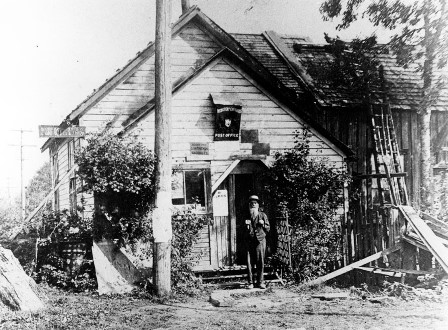 James passed away in 1923 at the age of 91.