Alfred T. Charlton was born in Ontario in 1875. In 1901 or 1902, after becoming a general merchant, he married Mary Berry. Mary was born in Bruce Country, Ontario, where she became a school teacher and later a principal. After she married Alfred Charlton, the couple moved to Maple Ridge in 1904, with their son David.
Charlton's first store in Port Haney was located right on the bank of the Fraser River where he built a wharf to allow the steamships to dock. Alfred was postmaster, dock master, and agent for the steamships, as well as the operator of the general store. He also handled freight and ticketing for the CPR.
Alfred died on January 9th, 1907, while crossing the Fraser River. He was skating across the Fraser to Fort Langley, although some say he was trying to rescue a young boy who had fallen through the ice. As the story goes, they were crossing together to meet with others about starting a soccer team the following spring. Alfred was only thirty-two years old, and he left behind him two young children. The boy who drowned with Alfred, initially thought to be his son, was Tom Carleton.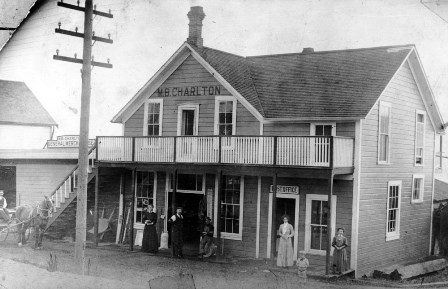 After her husband's death, in a move that showed true strength of character, Mary Charlton took over all of her husband's responsibilities in addition to raising their two young sons. Mary was well suited to business and expanded the family's holdings to include Haney's first bank, the Bank of Montreal, whose building she built and owned.
In a touching letter to her mother, Mary wrote,
I cannot tell you how lonely I am. Such a black darkness over everything. If it were not for our two boys I could not go on. Then I try to remember that if I do not bravely do the best I can it will only cause more sorrow and I must not be selfish. I must think of others but it is so hard.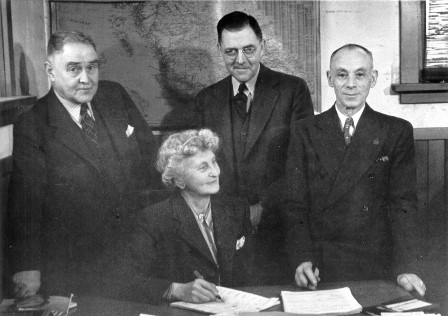 In 1917, Mary Charlton married her husband's cousin, William Storey, who had come from the East to help her with the store. He took on management of the General Store and changed its name to the somewhat whimsical 'Storey Store', while Mary continued in the role of postmistress. This is a role Mary continued to hold in various Haney locations for another 40 years. She was also the president of the Haney Women's Institute at one time.
Mary Charlton Storey, the first of Maple Ridge's women entrepreneurs, died in 1960. In July 2001, a small park at the south end of 224th street was named Storey Green in her honour.