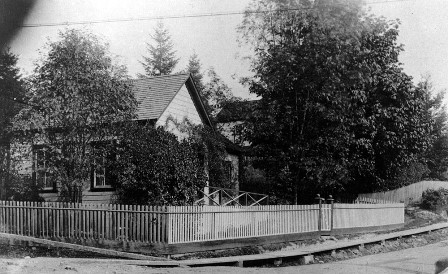 The Beckett family arrived in Port Haney from Sherbrook, Quebec in 1885. Henry Robert Beckett and his wife Mary brought with them their daughter and two sons, Florence, Ernest William and Walter Earley .
With the help of Mr. Wolfdon, Henry Beckett bought land and established Fraser Brick Works, which was located on the west side of the foot of the present 225th street. They turned this small brickyard into a success and the family opened offices in New Westminster. They changed the name of Fraser Brick Works to Haney Brick, Tile and Terra Cotta Co. around 1891, and in 1893 the brickyard was sold at auction. Henry Beckett died in 1896 and the next year, a massive granite monument was erected in his memory at Maple Ridge Cemetery. Their brickyard property later went on to become Maple Ridge Lumber and is currently Brickwood Park.
Henry's eldest son, Ernest, married and had three children; Arthur Henry, Jack Maxwell and Marjorie. After the sale of the brickworks, he sought other, less strenuous work. He began to work as a municipal clerk for the town in 1895 and continued in this position on and off for 22 years. He was paid a yearly salary of $25. In 1912, he took a position as Crown timber agent in New Westminster, where he lived for 10 years. After returning to Haney he became a municipal returning officer – a job he had also held from 1892 to 1895.
Ernest was an active community member, being one of the original Directorate of the Maple Ridge Agricultural Association in 1901 when Hector Ferguson began it, and one of the six surviving members to be given a lifetime membership in 1921 at a gala event. He also served for several terms as secretary for the Agricultural Association. When workers at the Maple Ridge Museum worked on transcribing the original minute book, they struggled to decipher Beckett's handwriting – a difficult-to-read copperplate script . Ernest died in 1935, predeceased by his wife and two sons.
Ernest had built two houses; one for himself, and one for his daughter Marjorie and her husband, D.B. Brooks. Marjorie was Haney's first night telephone operator, and her daughter, Dorothy, lived in this house with her parents until 1947, when she married Sid Annett.
The second of Henry Beckett's sons, Walter, lived in Haney from the time his family moved here until his death. He worked for the family brickyard and in 1926 he was appointed work at the municipal hall. Like most of the family, Walter had a strong devotion to cats and for over fifteen years he cared for several living along the river front. Walter passed away in 1938 at the age of 75.