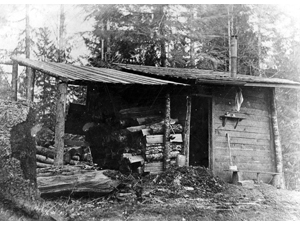 People coming to a frontier area face enormous obstacles, particularly if they are already a family. When Maple Ridge was incorporated in 1874, there were about 20 families in the entire district between the Pitt River and the Stave River. Scattered households made it difficult to have visitors to stay and there was no rental accommodation at all.
In most cases, the men of the family came first to establish themselves on the land — clear some ground and use the resulting logs to build a cabin first. Then with a roof over their heads, they would start on a more substantial structure.
Hotels appeared early on. We don't have pictures of the earliest of them but the Hotel Fraser is a good example. These were small buildings with a dining room on the main floor that also served other clientele, with living accommodations for the owners and rental rooms above. These were meant to house men arriving to purchase land or the more rare business traveler as they were too expensive for most people for more than a few days.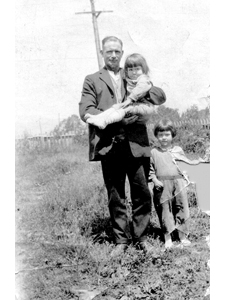 When Thomas Haney first bought his family to what would be called "Haney", they stayed in abandoned buildings at the first Fort Langley site at Derby. Thomas would cross the river to work on their house leaving Anne and her children behind. It was such a lonely and deprived existence that Anne Haney later insisted that she would have run away had there been anywhere to run to.
Even in the 1920's, people had to deal with "living rough" while building their own house. In her later years, Joan Jones recalled living in a tent on the property that became the brick post office on 224th Street, while her father built their house on St. Anne's Street in Port Haney. They lived in the tent for 18 months as her father was also working full time while doing the building.
Val Patenaude