Pete Telosky was a baseball player of some renown in the Dewdney League and beyond. He had actually earned a living playing baseball in the "dirty thirties" and the forties and was still playing and coaching as the 1950's approached.
The Telosky family farm included the land that is now Thomas Haney Secondary and Telosky Stadium plus a further 40 or so acres south of the Lougheed Highway. Prior to construction of that highway, the farm had been all one piece. Lougheed was a new road and its route cut through the Telosky farm, leaving a 7 acre parcel north of the highway.
Pete Telosky had grown increasingly frustrated with the district's only playing field on the Aggie Grounds.  The field was also used for livestock shows and competitions and so was choppy and cut up by their hooves.  Pete wanted a field that was just for baseball and decided that if there ever was to be one, he would have to build it himself.  And so he did.
The result is thoroughly described in an article by Jack R Cameron that appeared in the Vancouver Sun in later 1950 and is transcribed below. Another interesting bit of writing from the day is a bit of poetry from a very young Jim Robson.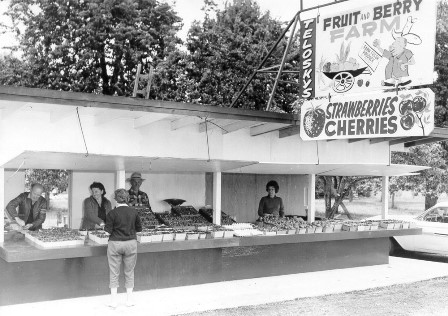 The following story of Telosky stadium was written by Jack R. Cameron and published in the Vancouver Sun Magazine Supplement on October 28, 1950 [p7].
TELOSKY STADIUM: When Pete Telosky said it could be done, Haney got its baseball park.
By Jack R. Cameron
Haney's new baseball park officially opened last May 14, not only touched off the biggest sports boom in the district's history, but started a chain reaction all the way from Seattle to Kamloops.
Inquiries have been pouring into the Valley centre asking when and how the thing was accomplished, and for how much.
All such inquiries have been forwarded to a gentleman named Pete Telosky, who made the whole wonderful thing possible. For Haney's new baseball stadium represents more than simple investment in the community's sports future. It also stands as a monument to one man's generosity and courage.
But let's go back to the beginning, to the late summer of last year when Pete Telosky made his now famous "big plunge".
It was painfully evident that Haney needed a new baseball park and sports centre.
Voters of Maple Ridge Municipality, of which Haney is commercial and residential centre, had twice turned down bylaws for purchase of community centre property. As a result, space for civic activities was at a minimum.
The senior ball club, entrants in the Dewdney League, had been forced to play home games at Pitt Meadows, six miles west, since other local organizations were using the Agricultural Grounds for a series of horse shows and rodeos.
It was at that point that Telosky, co-manager of the team, announced that he was willing to turn seven of the choicest farming acres in the municipality into a 2000-seat baseball stadium, and purely at his own expense.
While friends remained sceptical and critics scoffed, Pete went ahead with his ambitious plan in late August. He ploughed the land, which his family had farmed without interruption for 46 years, and laid 8000 tile in the dark loam.
A bulldozer spent two weeks levelling the ground, and by end of October, the site was ready for the 480 sacks of cement and 380 yards of gravel which eventually went into the foundations.
Many dreary days during the winter months, Telosky was a lone figure at the slowly-developing park. He struggled to erect the skeleton frame of the grandstands and raise the heavy lengths of boiler pipe which would support the 3000 square feet of heavy fox wire strung between stands and playing field.
By the time the last spike had been nailed and the final timber laid on the fences down both foul lines and around the spacious outfield, a total of 64,000 board feet of lumber was sunk into construction.
Early in the spring, crews of ballplayers and fans flocked to the park to help in the final rush before opening day in May.
The dash to the wire was so hectic, in fact, that Telosky was on the verge of nervous collapse for a sleepless week before he spoke to the overflow crowd of fans when the stadium threw open its gates. It was about that time that skeptic onlookers around the district began to realize that perhaps Pete Telosky wasn't so foolish after all.
"I built this stadium mainly for the kids," he says. "They're the ones who will enjoy it in the years to come."
"Baseball has been good to me for the past twenty years, and this is the least I can do for the favors and help the game has given me."
Back in 1927, when still a youngster of 13, Pete Telosky played hookey from school so he could join the home town Haney ball team in the league playoffs.
Through depression years of the job-scarce Hungry Thirties, Pete's baseball skill landed him employment with several companies. After Haney, he jumped to Vancouver and played for such teams as B. C. Telephone and Arrow Transfer of the old Senior City League.
Two years later, Pete was in uniform in Courtenay together with three other baseball-playing members of the Telosky family – Sam, Andy and George.
From 1933 to 1939, he made amateur baseball history with his big bat at Ioco while catching for the fine Imperial Oil teams of that period.
Telosky's naturally flamboyant personality, his flair for the colourful, and his sometimes hair-trigger temper have gained him many friends and some enemies during his baseball career. Whenever a few old-timers get together to talk over the baseball past, however, it is with fondness, and perhaps with a bit of reverence after this year, that the name of Telosky is mentioned.
To the initial investment of $12,000 which brought Telosky Stadium to its present stage of development will be added another $15,000 within the next three years.
So confident is Telosky that the park will be a success that he already plans purchase of a new lighting system, costing around $10,000, which will bring night baseball to Haney within two years.
If Haney was a baseball-crazy town in past years, the new park has raised ardour of the fans to the point of fanaticism. The team drew more admissions during the first two months of this season than it did during five months on the old Agricultural Grounds in 1949. Dominion and Labour Day tournaments offering $1400 in prizes were attended by a total of 15,000 spectators from all over the Lower Mainland. Six home Dewdney League playoff games in August attracted 10,000, an amazing figure for amateur baseball.
Gate receipts from the ball games served a variety of purposes. The senior baseball team supports a younger junior club, a girl's softball team, plus basketball and soccer squads in the fall and winter. Remainder of the funds are earmarked for improvements to the stadium and for repayment of the original investment.
Other centres around the Fraser Valley have obtained Telosky's original plans for the park, and are considering construction of similar units. Most current is the new stadium built late this summer at Whalley. Other sports plants may eventually go up at Maillardville, Port Coquitlam, and Langley, while further inquiries have come from points in Washington State and the B. C. Interior.
The stadium, which seats 2,000 and has space for new stands holding 3,000 more, has been useful to other service and athletic organizations which have staged shows there.
Pete Telosky has other interests besides baseball. He helps farm the 40 acre family farm that surrounds the ball park on both sides of the Lougheed Highway. Periodically during the fall and winter months, he will strike out for a remote point up the Coast to log off some tract of timber.
The Telosky story began one day at the turn of the century when the family first arrived in Maple Ridge. Its latest chapter is written in the lumber and dirt of Haney's new ball park.
And sometime, if you happen to be driving out that way, you might drop in and meet Pete Telosky, the man who loved baseball so much he was willing to sink his last cent into a stadium to house the game.
– – – – –
Note: Jack Cameron who wrote this piece grew up in Maple Ridge and was a player on Pete Telosky's Haney ball team. He was Sports Editor for the Maple Ridge Pitt Meadows Gazette in 1949-50 when he contributed this piece to the Vancouver Sun.