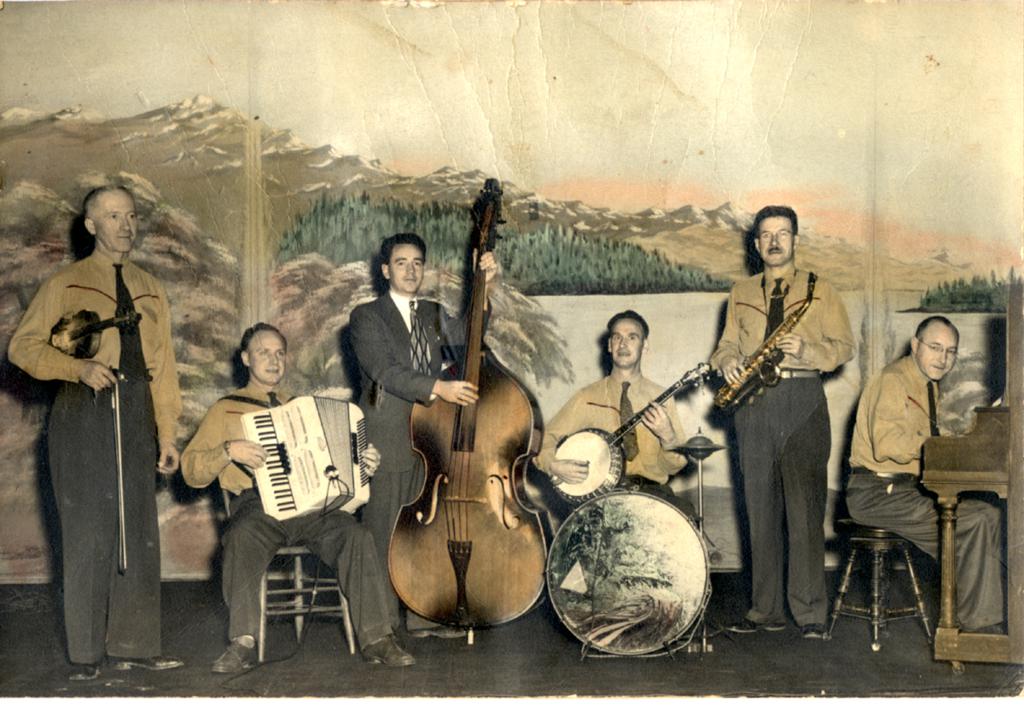 There is a strong tradition here of local musicians entertaining at dances and concerts, strikingly illustrated by this photograph. Peggy McNeill brought the picture to the attention of the Maple Ridge News and the Maple Ridge Museum. It shows the Happy Valley Rangers, a group started by her first husband, Alex Meek, the accordion player. The group got together in the 1930s as a trio that played for dances, mainly at the Webster's Corners Finnish Hall. Meek's two other original players were Harry George on violin, and Tommy Bishop on drums and banjo.
The Happy Valley Rangers band membership grew and changed over time, eventually changing its name to the Country Cousins in the 1970s. The other three band members in this earlier photo are Jack Godwin on the bass fiddle, Jack Scott on saxophone, and Max Warner on the piano. Past students at Maple Ridge High School may remember these three as part of the teaching staff during their day jobs.
A glance at the 1948 Gazette newspaper file shows how local residents entertained themselves on a typical Saturday night more than fifty years ago. Every local community hall seemed to sponsor a regular dance, each with its own band. Down in the Pitt Meadows Hall, they advertised a Weekly Barn Dance, to the music provided by Jimmy Morris' Radio Mountineers. The Hammond Hall held dances featuring Buster Morgan's Radio Revelers, and a Haney dance in the Aggie Hall employed George Sheldrake and the Maple Ridge Band. Up at the Webster's Corners Finnish Hall, the Happy Valley Rangers Orchestra provided dancing from 9 to 12, with refreshments available, for an affordable 50 cents.
Jack Scott was the brother of Belle Scott, another gifted musician who regularly played piano with a dance band before she married Hugh Morse. Many people remember her fondly as the moving spirit behind the Maple Ridge Merrymakers, and eventually a municipal Council member who ended up serving as our mayor.
Another item that Peggy McNeill once owned is a record made by Jack Scott in the 1940s. She guesses that today's photograph dates from the 1950s or 1960s. The Maple Ridge Museum would love to have a more precise date and location for this evocative photo.
Looking Back by Sheila Nickols, published in the Maple-Ridge-Pitt Meadows NEWS, August 27, 2003.